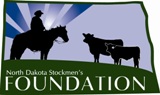 Promotion * Research * Scholarship * Leadership * Building
At its March 2012 board meeting, the Foundation added two additional scholarship opportunities. There will now be three each of the Legacy and Junior Scholarships that will be presented during the North Dakota Stockmen's Association's convention in Bismarck this coming September.
Three $500 scholarships available for a high school senior or college freshman, sophomore or junior with any major.
Three $500 scholarships available for sophomores majoring in animal science, range science, pre-vet, agribusiness, ag communications, farm and ranch management or another beef-related major.
A student may apply for both the Junior Scholarship and the Legacy Scholarship, but separate applications must be submitted.
Deadline to apply is March 1, 2013.