The North Dakota Stockmen's Association has six districts. Four people from each district are elected to serve on the Board of Directors.
The following map will assist you in locating your district representatives.
Click on a district below to view the directors in that area.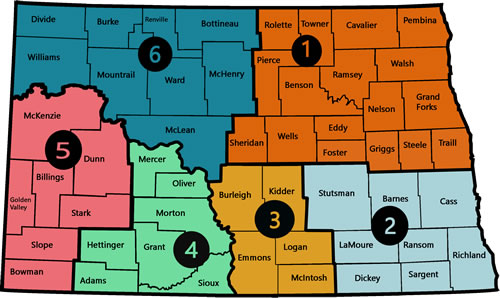 Steve Brooks, President
District 5
7206 146th Ave SW
Bowman, ND 58623
701-523-5391
brookssa@ndsupernet.com
Winton Wold
District 5
11752 43rd St NW
Watford City, ND 58854
701-842-3863
vwold@ruggedwest.com
Paige Burian
District 5
911 122nd Ave SW
Manning, ND 58642
701-863-6603
lazy77@ndsupernet.com
Jason Leiseth
District 5
3171 131st Ave NW
Arnegard, ND 58835
701-586-3714
jpleiseth@ruggedwest.com
Wayne Gerbig
District 5
5903 146th Ave SW
Amidon, ND 58620
701-879-6353
gertbigwk@ndsupernet.com
North Dakota Stockmen's Association
Uniting, protecting, promoting, educating and serving North Dakota's beef cattle industry over 85 years.