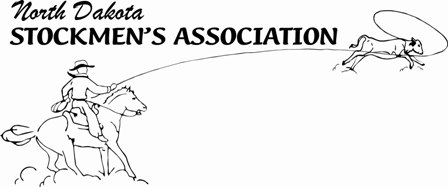 U.S. Fish and Wildlife Service
Audubon Wetland Management District
RE: Dakota Grassland Conservation Area Comments
The North Dakota Stockmen's Association is an 82-year-old beef cattle trade organization. On behalf of our nearly 3,000 members, many of whom farm and ranch in the Prairie Pothole Region of North Dakota, I write to oppose the Dakota Grassland Conservation Area as currently proposed.
As you know, livestock producers take great pride in being stewards of their resources. Pro-conservation, we regularly employ many conservation practices on our operations, whether it be rotational grazing, weed control, tree planting or wildlife habitat and water development, to enhance our own businesses and to leave our operations in better shape for those who come after us. It's part of our livelihood and our legacy.
The Dakota Grassland Conservation Area's Alternative B, the U.S. Fish and Wildlife Service's preferred alternative, would include the establishment of perpetual conservation easements to accelerate the acquisition of wetland and grassland habitat. Our members have and continue to be adamantly opposed to perpetual easements, and for good reason. Perpetual easements can negatively impact the ability of future generations to best manage the land for that point in time and infringe on their private property rights. We also believe that perpetual easements devalue property, as potential buyers are less apt to be interested in parcels if they come with restrictions that last forever. In a public hearing held earlier this summer, U.S. Fish and Wildlife Service officials assured the crowd that modifications to the terms of the perpetual easements could be requested and considered. The complicated flow chart outlining the steps that would need to be taken in order to make a change, though, are indicative of the unlikelihood that these modifications would ever be granted.
Shorter-term easements would be much more palatable. If arrangements are mutually beneficial for both the individual landowner and the U.S. Fish and Wildlife Service, achieving renewal of a shorterterm easement should not be difficult. We noted, though, that the shorter-term easement alternative wasn't even studied. The rationale given in the report was that shorter-term easements would merely be conservation rental, whereas perpetual easements would be conservation ownership. If conservation is at the core of this discussion, the U.S. Fish and Wildlife Service's goal should be achieving the conservation objectives, not controlling the land. Besides, shouldn't each generation be given the same opportunity as the one that came before it to implement decisions in the management and stewardship of their lands? We cannot listen to the television or radio news or read a newspaper without hearing about the federal deficit and extreme steps being taken to cut that debt. Considering our overall federal economic condition, it seems misplaced for the U.S. Fish and Wildlife Service to be pursuing easements at a cost of more than $580 million over the next 25 years, particularly when the agency will have to seek alternative funding in order to pay for the project.
Additionally, the scope of this proposal is massive, encompassing more than half of our state, for a total of 1.7 million acres of grasslands and 240,000 acres of wetlands initially. Yet, there are already plans to grow the size to 1.8 million acres of wetlands and 10 million acres of grasslands. It would seem only reasonable that, if it moves forward, such a project be conducted with a take-it-slow approach, with shorter-term easements and on a pilot-project basis first.
I'd also point out, that, just as migratory birds have seen a decline in the last quarter century, so have beef cattle. In fact, cow numbers are the lowest they've been since the 1950s and, just as with the migratory birds, that's due to a multitude of reasons. Protecting livestock grazing and the livelihood of livestock producers are important too. Because we have seen a shift away from livestock grazing as a priority or equally weighted use in other federal government agency actions, we are very concerned that that same shift away from a multi-use concept that includes livestock grazing will result with this plan, and that the consequences of that action will last in perpetuity.
Therefore, we urge you to abandon Alternative B and, instead, explore with all stakeholders a shorterterm easement option that recognizes the environmental and wildlife benefits of livestock grazing.
If the U.S. Fish and Wildlife Service is unwilling to do that, we urge you to choose Alternative A and simply abandon the plan.
We appreciate the opportunity to comment on this issue. If you have any questions, feel free to contact our office at (701) 223-2522.
North Dakota Stockmen's Association
Sen. John Hoeven Rep. Rick Berg