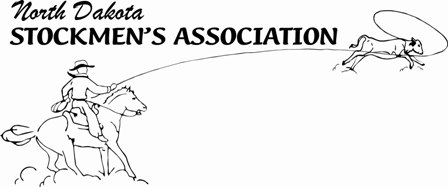 Office of Pesticide Programs (OPP)
Regulatory Public Docket (7502P)
Environmental Protection Agency
1200 Pennsylvania Ave., NW
Washington, DC 20460-0001
Re: Docket ID No. EPA-HQ-OPP-2011-0909
Thank you for this opportunity to comment on the draft biological opinion issued under the Endangered Species Act by the U.S. Fish and Wildlife Service (USFWS) related to the potential effects of Rozol Prairie Dog Bait on threatened and endangered species. We are grateful for this chance to provide the ranchers' perspective regarding the black-tailed prairie dog and the management tools used to balance populations with the environment and livestock production.
The North Dakota Stockmen's Association is an 82-year-old trade organization representing nearly 3,000 cattle ranchers in North Dakota. Prairie dog management has been a priority issue for the North Dakota Stockmen's Association for decades.
Black-tailed prairie dogs negatively impact North Dakota rangelands, destroying grasses and leaving soil vulnerable to erosion and weed invasion. The animals also can host vectors that carry diseases threatening to humans and other mammals. Obviously, rangelands serve as the foundation of our livestock operations and our businesses. That's why cattle ranchers need effective management tools to control prairie dog populations, which have grown in the recent past and continue to be a challenge as we, as range managers, balance for a healthy and diverse ecosystem.
Rozol is one of the most effective tools amongst the limited options cattle ranchers have to use in controlling prairie dog populations. Without safe, effective, affordable tools, prairie dog populations will either go unchecked and their range-destroying impacts will be exacerbated or cattle ranchers and other landowners will have to resort to more dangerous options, such as propane or anhydrous ammonia techniques.
We are concerned about the reporting requirements suggested as Reasonable and Prudent Measures (4 and 7) to protect the black-footed ferret. We believe this information is unnecessary and could put family farmers and ranchers at risk, since the release of this information to the public could subject them to litigation or harassment by activists who could use this detailed, private information to harm the agriculturists. In addition, it is unclear who would enforce the suggested reporting requirements, particularly in a time of many reduced state and federal budgets.
The North Dakota Stockmen's Association was pleased to be a part of the Summer 2010 "prairie dog tour" hosted by the North Dakota Department of Agriculture (NDDA) and the Standing Rock Sioux Tribe. The tour was referenced in the biological opinion. We would concur with the comments of the NDDA stating that the landowners who had experience with Rozol on the tour indicated that they did maintain the integrity of the label by following label requirements and returning to treated prairie dog towns to collect dead and dying prairie dogs, even though the process was resource-intensive. Those landowners also indicated that it was difficult to find the prairie dog carcasses to collect and dispose of though, since many animals apparently return to their holes to die, are eaten by other prairie dogs or are taken away by scavengers. Cattlemen and cattlewomen are environmental stewards, wanting to do what's right for the land and the animals, not only because it is what is right to do, but it is how they make their livelihood, so we would disagree with the assertion that they, as a whole, disregard label instructions.
We were pleased that the Draft Biological Opinion does not indicate concerns that Rozol use would jeopardize the endangered species found in North Dakota. In the case of the piping plover and whooping crane, USFWS determined "no adverse effects are anticipated." Similarly, the USFWS indicated that the gray wolves found in North Dakota are dispersing from larger populations, would be insignificant to population recovery and that Rozol use would not jeopardize the species. Furthermore, black-footed ferrets are not currently in the state and there are no plans to locate them here. Consequently, EPA should recognize that the risks are negligible for Rozol use in North Dakota. At the same time, the benefits of this effective management tool are significant.
Please reinstate the product in North Dakota so it can be utilized again this year.
Thank you for your consideration of these comments.
Julie Ellingson, Executive Vice President
North Dakota Stockmen's Association