Young Cattlemen's Conference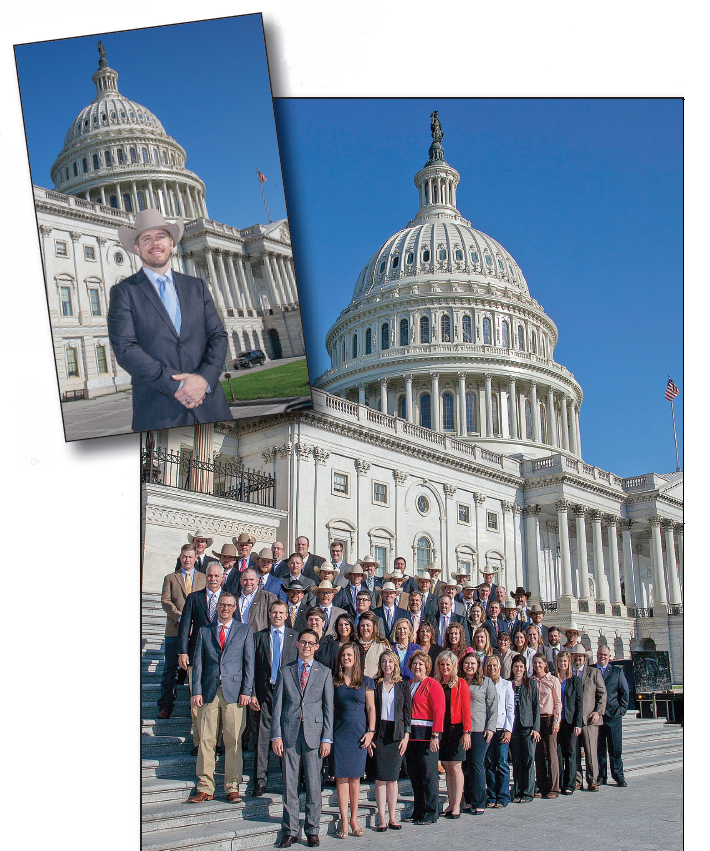 The Young Cattlemen's Conference (YCC) program is designed to develop leadership qualities in young beef industry leaders.
The conference includes an introduction to NCBA, a presentation on the beef industry's strategic plan and direction, learning about the industry structure, issues management training, checkoff-funded programs instruction, various tours and congressional visits.
Attendees are nominated by their respective state cattlemen's association.
Nominate someone or apply yourself to represent NDSA at the 2019 YCC Conference by printing the form below and mailing it to NDSA, 407 S. 2nd St., Bismarck, N.D., 58504.
Application deadline is March 1.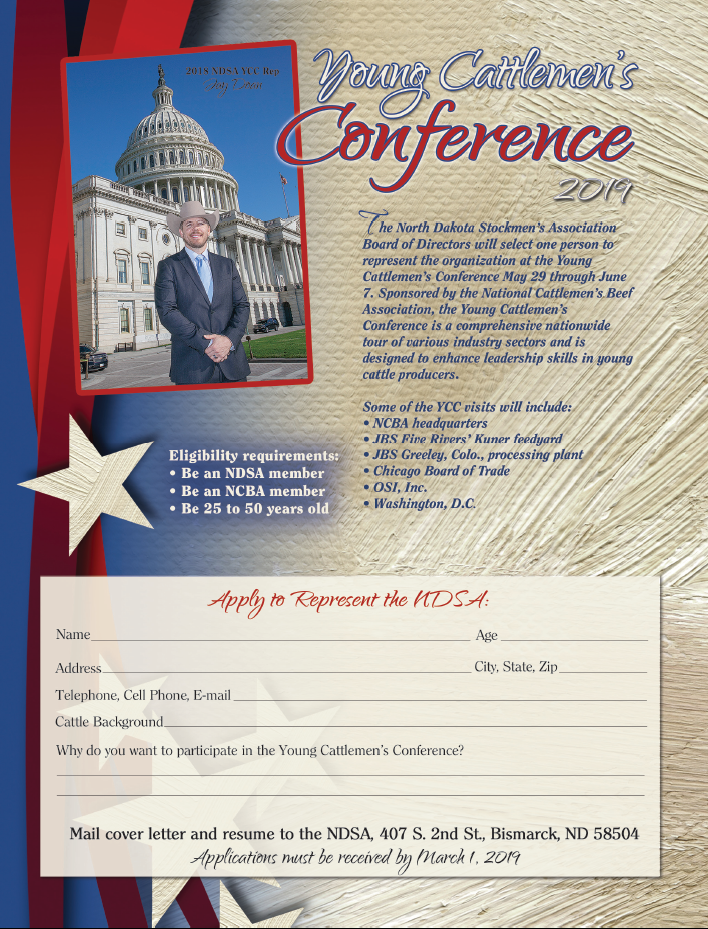 Past YCC Participants
2018 - Jay Doan, McKenzie
2017 - Amy Rorvig, McVille
2016 - Michael Tangen, Kathryn
2015 - Lacey Maier, New Salem
2014 - Zac Hall, Bismarck
2013 - Doug Bichler, Linton
2012 - Shane Anderson, Towner
2011 - Erika Kenner, Leeds
Jeremy Doan, McKenzie
2010 - Kathy Tokach, St. Anthony
2009 - Jonathan Marohl, Solen
2008 - Scott Ressler, Linton
2007 - Jason Zahn, Towner
2006 - Jason Schmidt, Medina
2005 - Spencer Seidler, Garrison
2004 - Todd Leland, Sidney, MT
2003 - Casey Maher, Morristown, SD
2002 - Aaron Jacobson, Crosby
2001 - Steve Melroe, Gwinner
2000 - Mark Messer, Richardton
1999 - Dennis Danielson, Rolette
1998 - Tom Murphy, Killdeer
1997 - Warren Woroniecki, Hebron
1996 - Alan Effertz, Velva
1995 - Ryan Taylor, Towner
1994 - Mark Voll, Sisny, MT
1993 - Gene Harris, Killdeer
1992 - Paul Prince, Hettinger
1991 - Richard C. Tokach, St. Anthony
1990 - Tim Dwyer, Sidney, MT
1989 - Neal Rau, Medina
1988 - Doug Pope, Bowman
1987 - Mark Huseth, McLeod
1986 - Burton McLean,Gilby
1985 - Jeff Dahl, Gackle
1984 - Dan Dahl, Streeter
1983 - Larry Schnell, Dickinson