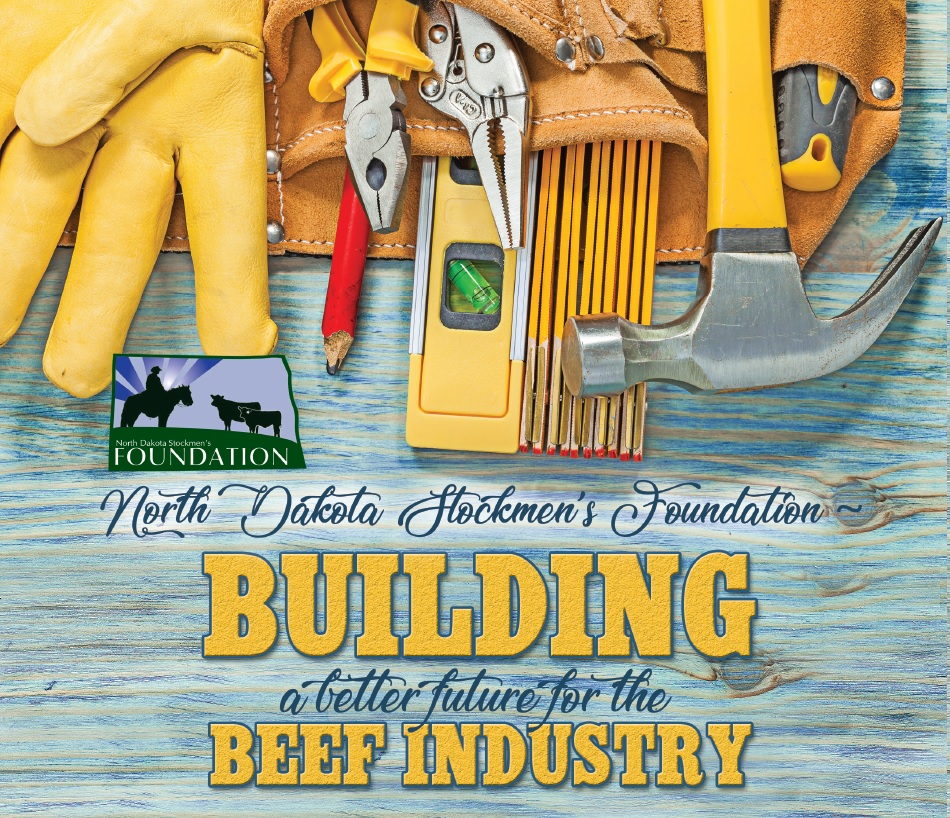 The North Dakota Stockmen's Foundation was founded in 2008 to provide opportunities in beef-related promotion, research, scholarship, leadership and building and to leave behind a legacy for future generations.
There are many options to make a charitable gift, including:
cash/check; real estate; appreciated property - stocks, bonds, mutual funds or other investment instruments; oil, gas and mineral interests; gifts of ag commodities; matching funds; or deferred/planned gifts.
The Foundation is a 501(c)3, so many contributions are deductible for income tax purposes.
Tax-deductible donations can be sent to the North Dakota Stockmen's Foundation, 407 S. 2nd St., Bismarck, ND 58504.


With the support of generous donors it has:
Provided nearly 60 scholarships to students studying for beef industry and related careers.
Brought more than $275,000 in relief to producers devastated by relentless floods, blizzards and wildfires in 2009, 2013 and 2017.
Established a beef research fund to help keep producrs on the cutting edge of science and technology.
Helped develop curriculum to assist families with the generational transfer of their farms and ranches to keep the industry strong for years to come.

Stockmen's Ball
The NDSF will host its fifth-ever Stockmen's Ball in December of 2019 at the Ramkota Hotel. Tickets will be available summer of 2019.

North Dakota Tax Credit
Are you a North Dakota individual taxpayer or an owner of a North Dakota business or a beneficiary of a trust or estate which derives income taxable in North Dakota?
If so, you have been presented with an unprecendented tax credit if you make gifts that help secure the future of a qualified North Dakota nonprofit organization(s) through a gift to its qualified endowment fund(s).
The ND State Legislature has approved and Governor Dalrymple has signed into law Senate Bill 2160.
This law allows for generous tax credits for individuals and business who give specific types of gifts to North Dakota charities.
The credit may be carried forward for 3 additional tax years if it cannot all be used in one year.
How the Tax Credit Works for Individual Donors
The 2011 legislation allows a 40% tax credit for gifts by individuals to a qualified endowment fund held by a qualifying North Dakota nonprofit organization.
If an individual makes a gift(s) to an endowment fund, the aggregate of the year's gifts to a particular fund must be $5,000 or more.
The tax credit is 40% of the charitable deduction allowed by the IRS up to a maximum credit of $10,000 per year per taxpayer or $20,000 (50,000 in gifts) per year per couple filing jointly.
Unused credits may be carried forward for up to three additional tax years.
NDSF board members include Warren Zenker, president; Dan Rorvig of McVille, vice president; Jeff Dahl of Gackle; Renee Erickson of Dickinson; Gene Harris of Killdeer; Mark Huseth of McLeod; Howdy Lawlar of Watford City; Dan Rorvig of McVille; and Richard C. Tokach of St. Anthony.
The North Dakota Stockmen's Foundation is a designated 501(c)(3) nonprofit organization.