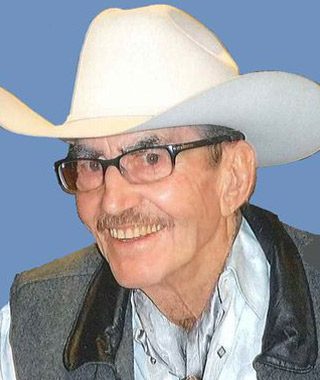 Harry Anderson
Towner
Harry P. Anderson, 84, died on July 12, 2013, at St. Alexius Medical Center in Bismarck from complications due to cancer. As a 58-year member, Anderson's photograph hangs in the NDSA's Memorial Hall.
He served as a former NDSA director and Brand Committee chairman.
Anderson was born in Kenmare on Feb. 26, 1929, the year the NDSA was founded, and graduated from Sherwood High School in 1947.
He farmed with his father until 1951, when he was drafted into the armed services. He served for two years during the Korean Conflict and was stationed in Ft. Lewis, Wa. After the service, Anderson returned to the family farm.
In 1954, he married June Becker and began raising their family of seven children. In 1964, the family moved to the Denbigh-Towner area, where he leased the Eaton Ranch and ran a commercial Angus cow-calf operation.
He began putting together his own ranch in 1969 south of Towner.
Lorie Klein, Anderson's daughter, said he was proud of his home state of North Dakota and his association with the NDSA.
"As kids growing up, we couldn't wait until we were old enough to attend the annual meeting; it was a right of passage in our family," she said.
In addition to the NDSA, Anderson served as a member of several organizations, including the Renville-Bottineau Ag Improvement Association, Renville and McHenry County Farm Bureaus, the Masonic Lodge, the American Legion, the Towner Beef Producers, the Towner Horse Racing Association, the Towner Ranchers Scale Association, the McHenry County 4-H, Shriners and the 50 Years in the Saddle Club, as well as the Republican Party. He also served as a North Dakota Cowboy Hall of Fame trustee.
He is survived by his children, Deb (Al) Madden of Ringsted, Iowa; Randy (Karla) Anderson of Towner; Craig (Dawn) Anderson of Alto, Texas; Lorie (Frank) Klein of Carrington; Jayme (Karen) Anderson of Poynette, Wis.; Lana (Jim) Southam of Sherwood; and Chad (Pam) Anderson of Peyton, Colo.; his grandchildren, Josh, Nathan, Tara, Shawn, Shane, Chris, Sheri, Brandon, Katie, Tyler, Molly, Madison, Hayley, Seth, Sara and Scott; his great-grandchildren Rylah, Raegan, Aubrey, Myles, Wyatt and Stella; nieces; nephews; other relatives; and many, many friends.
He was preceded in death by a sister, Dorrah Weed; a brother, Martin Anderson; and his parents.