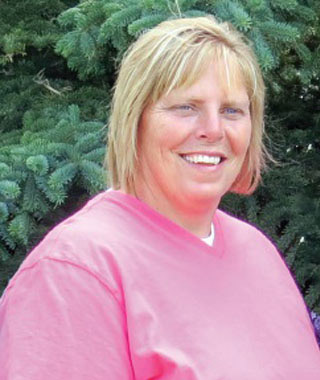 Dakota Dawn "Cody" Hansen
Ryder
The NDSA is adding the picture of Dakota Dawn "Cody" Hansen of Ryder to its Memorial Hall. Hansen will join the list of individuals recognized by loved ones.
Hansen, 49, died unexpectedly Oct. 19, 2015, in Minot. She was born on May 21, 1966, in Rugby to Dale and Beverly Brandt and was raised on her family's ranch east of Granville. She graduated from Granville High School, where she played basketball. She accepted a basketball scholarship from Lake Region Junior College, where she was a member of the 1985 team that played in the National Junior Collegiate Athletic Association championship.
Following graduation, she returned to Granville where she was employed by a regional highway contractor, Minot Livestock Auction and RCC Western Store.
Cody married Kevin Hansen on June 15, 1990, and moved to the family's ranch north of Ryder in Ward County, where the couple raised their family and Simmental cattle.
In addition to her active involvement in the NDSA, Hansen served as a member of several organizations. She was a member of Rose Valley Lutheran Church, the American Simmental Association and the North Dakota Simmental Association, in which she served as a director.
Hansen pursued her passion for mentoring youth in the show ring and on the basketball court. She served as the girls' basketball coach for Berthold High School and North Shore Plaza High School. She also was a member of the Ward County 4-H Council and a leader in the Prairie Tumbleweeds 4-H club. She also participated in the Roughrider Rodeo Association circuit where she was a six-time breakaway roping champion. Alongside her civic involvement, Hansen enjoyed gardening, knitting, baking and spending time with family and friends.
She is survived by her husband Kevin; children Wyatt and Hadlie; mother Beverly Brandt of Surrey; mother- in-law and father-in-law Marcy and Kermit Hansen of Ryder; siblings Terry Brandt of McLaughlin, S.D., Shelby Brandt of Granville; Stacey Wald of Surrey; sister-in-law Susan Brandt of Surrey; in-laws Kary Nygaard of Minot; Loren Hansen of Webster, Minn.; and Lynae Lardy of West Fargo; nieces Tanya, Shannon, Kinley, Jordyn, Britney, Madison, Jaelyn and Taylor; nephews Stetson, Landon, Levi, Tate, Wyatt, Dalton, Jacob, Jarrett, Ty; and great nephew Ames. She was preceded in death by her son Braxton; father Dale Brandt; and grandparents Henry and Cora Brandt and Clyde and Virginia Cargo.