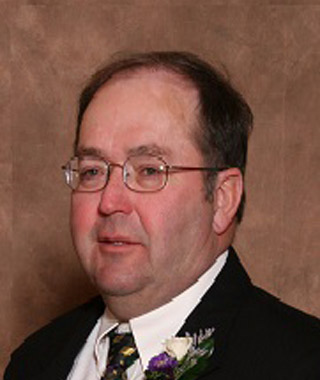 Kim Rath
Wishek
Friends and family of the late Kim Rath, 58, of Wishek honored his memory with a commemorative portrait in the NDSA's Memorial Hall.
Rath dedicated his life to farming and ranching and instilled a great love of agriculture in each of his children and grandchildren.
Born Nov. 8, 1954, the son of Edward and Erna Rath, Rath was raised on the family's small grain farm and commercial cattle ranch west of Wishek. After graduating from Wishek High School in 1972, Rath became the third generation to occupy the family farm. He married Marilyn Schon on Feb. 16, 2008, at Turtle Lake.
When asked where he was from, Rath unfailingly replied, with a big grin, "Wishek – home of the Badgers and the Sauerkraut Capitol of the World." He was proud to be from Wishek and served on the Wishek School Board and City Council. He was a member of St. Luke's Lutheran Church and a great supporter and member of the Wishek FFA Alumni Association. Rath farmed and ranched with Marilyn and his sons Nathan and Timothy. The Raths won the McIntosh County Soil Conservation award in 2007. He took great pride in the family farm and would have been pleased to see it become a North Dakota Centennial Farm.
Rath was also a proud 10-year member of the NDSA. He attended multiple Spring Roundups, Feedlot Tours and other events, and was a director candidate before he contracted West Nile virus.
He fought a courageous, six-month battle with the virus. During that battle, his family adopted the mantra "No Rancher Left Behind" to show him their dedication, love, support and desire to bring him back home. They lovingly surrounded Rath when he passed away on Feb. 8, 2013, from complications of West Nile virus.
Rath had a great sense of humor, was gentle and kind and showed compassion to his family and his livestock. He was very patient and determined when it came to "doctoring" and nursing cattle back to health on the rare occasion that one became ill.
Jayson Rath, Kim's only brother, wrote and read a tribute at his funeral:
An excerpt follows: "...It was evident that one of Kim's main focuses was the family farm. Kim was in general an optimist. Broke out, dried out and hailed out. He survived it all. And while doing that, he was able to raise and educate a fourth-generation family of farmers that the previous three could not be any prouder of. He passed away with dreams of achieving the 100-year Centennial Farm status, the new shop and knowing that his farm was in the most capable hands, which he had educated and mentored during his life on that great soil. It's odd his life would be cut short just at the pinnacle of his farming experience with optimal grain crops and livestock production. I believe he was comfortable that his legacy would live on."
Rath is survived by his wife Marilyn; children Bridgette (Randy) Readel of Hunter; Nathan (Megan) Rath of Wishek; Kary (Carl) Lindgren of Ashley; Timothy (Ashley) Rath of Wishek; stepchildren, Angie Schon of Bismarck; Eric Schon of Mercer; and six grandchildren, Cody Readel, Jessica Readel, Marshall Lindgren, Cheyanne Lindgren, Kaitlyn Rath and Olivia Rath; a special nephew, John Rath; one brother, three sisters and his mother-in-law.