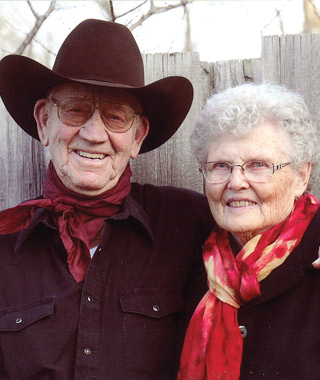 Rueben & Phyllis Knutson
Killdeer
The family of Rueben and Phyllis (Olson) Knutson chose to honor the couple through a gift to the North Dakota Stockmen's Foundation and to add the couple's picture to the Memorial Wall at the NDSA headquarters.
"Our family is honored to recognize Mom and Dad's legacy for their lifelong commitment to the beef industry, community and church by adding their picture to the wall at the NDSA," said Dean Knutson.
The family remembers Rueben always joking, "I had to work seven years to get my wife," while Phyllis chuckled every time he said it.
Rueben was born to K.B. and Martha Knutson in 1925.
He grew up on a farm four miles north of Dunn Center. He attended grade school and high school in Dunn Center and graduated in 1943. While in high school, Rueben played center on the Dunn Center Basketball Team.
Phyllis was born in 1928 on her dad's homestead in the Badlands. She attended her first six years of school at a rural school at the head of the Badlands. In 1945, Phyllis graduated high school from Dunn Center and began taking a rural workshop course from Dickinson State College (DSC). She taught school for Hope District 13 for two years before going back to continue her education at DSC in 1947 to earn her standard certificate. Phyllis taught third grade until 1950.
Rueben started working for Phyllis' father Tom in 1943 on the family ranch nine miles north of Dunn Center.
The hired man wages were paid to him with seven heifers, which started Rueben's Hereford herd. When Tom died in 1945, Rueben continued to work for Lillian, Phyllis' mother.
Due to diminished water supply and a home fire, the Olson family had left their Badlands homestead where Phyllis was born in 1940, moving three miles south to its current location. During Rueben's time working for Phyllis' family, the courtship began between the couple. They were married in 1950, so, Rueben was correct, he worked seven years to get his wife.
Over the hills and through the snow, the married couple would go on horseback in hopes of finding neighbors home. 1950 was a hard winter with long days, so having something they enjoyed together helped them through that winter. Later that year, the community got electricity and it made a huge difference for their rural community. Also, in 1950, the couple started to buy their own ranch.
Phyllis worked beside Rueben as her love for horses and ranch life was just as much a dream come true for her as it was for him.
They possessed a strong work ethic that stayed with them throughout their 50 years on the ranch. Rueben and Phyllis passed this work ethic and sense of pride onto their four children, Dean Knutson of Killdeer, Sharol Ledin of Elkhorn, Neb., Linette Jesperson of Cheyenne, Wyo., and Gynell Harris of Killdeer.
Their lifestyle changed as their family began to increase between the years of 1952 and 1960.
The year 2000 brought significant changes to Rueben's and Phyllis's life. They moved off their ranch and into a home in Killdeer. The couple continued to be very involved with their church and community as they always had been.
Rueben is a long-time member of the NDSA. Phyllis was involved with the North Dakota Cowbelles, CattleWomen and the Beef Cook-Off, holding many different offices in each.
After 63 years of marriage, Phyllis passed away Jan. 25, 2014. Rueben then moved to the Hilltop Home of Comfort in Killdeer, where he resides today. He joined his wife in their heavenly home when he passed away April 17, 2019.