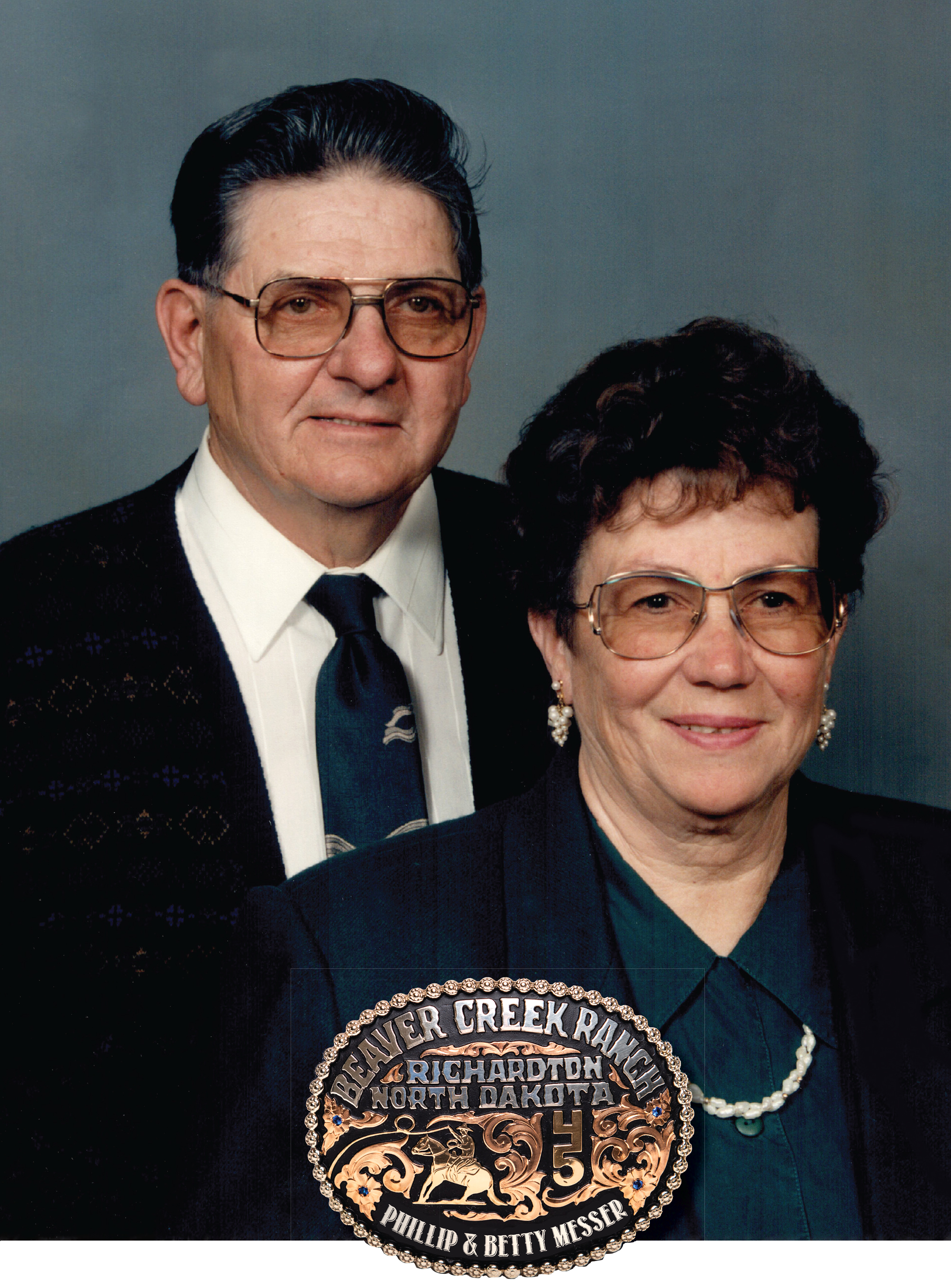 Phillip, Jr., and Betty Messer
Richardton
The family of the late Phillip, Jr., and Betty Messer chose to honor the longtime Richardton ranchers through a gift to the North Dakota Stockmen's Foundation (NDSF) and added their picture to the Memorial Wall.
The Messers were 52-year NDSA members and lifelong farmers and ranchers, raising their 11 children on the family operation south of Richardton.
Betty passed away Nov. 21, 2018, and Phillip, Jr., joined her in their heavenly home Dec. 11, 2019.
Betty was born July 18, 1930, in Stark County, N.D., the daughter of Albert and Rose (Herauf) Schmalenberger. She grew up on the family farm north of Hebron and attended school in town, graduating from Hebron High School. After graduation, she began working as a bookkeeper for Hebron Co-op Elevator. That's where she met Phillip one day while he was unloading wheat.
The couple was united in marriage May 22, 1951, at St. Mary's Catholic Church in Richardton. Together, they made their home on the ranch along the Beaver Creek.
Betty was a true ranch wife, pulling her weight inside and outside in her younger years and continuing as an errand runner throughout her lifetime.
Family was most important to Betty, and she cherished time spent with them. She enjoyed making blankets, and each grandchild and great-grandchild was the recipient of one of her creations. She also enjoyed tending to her flowers and her garden and took great pride in dressing up for special occasions, like her grandchildren's weddings.
Betty was committed to service, too. In addition to the Messers' NDSA membership, she was a member of the North Dakota Cowbelles, later renamed the North Dakota CattleWomen; St Mary's Catholic Church; and Catholic Daughters.
Her children said she will be remembered as "an honest, hardworking caretaker with a sweet tooth and an abundant supply of Schwan's food!"
Phillip, Jr., was born Feb. 8, 1929, in Richardton to Phillip, Sr., and Barbara (Martin) Messer. He grew up on the family farm and attended country school through eighth grade. He worked on the farm alongside his dad until he met Betty.
In his younger years, he was a member of a band and played the accordion and organ.
Like Betty, Phillip was involved in his industry, community and church and believed in making a difference, not just being a bystander. He was a member of the Lions Club, the zoning board, the Stark County Weed Control Board, the Knights of Columbus, the Richardton School Board, the Richardton Health Care Board and the Medcenter One Board. He was also a lifetime member of St. Mary's Catholic Church and the Richardton Saddle Club. Among his achievements, he was honored as the Farmer-Rancher of the Year by the local Soil Conservation Service.
His family remembers him as a man who leds by example and with his "priorities straight" – faith, family and farming and ranching. "He was always smiling, had a joke and loved bigger than any man we know," relatives recounted. They also recalled several pieces of Phillip's advice: "Two wrongs never make a right," "Hire someone if they have the heart to be caring and the ability to work," and "Always speak your mind, but remain genuine."
The Messers are survived by their children, Barb Ruhland, Watkins, Minn.; Pat (Lyndia) Cromwell, Minn.; Randi Messer Schaeffer, Bismarck; Mark (Carol), Richardton; Jerome "Jerry" (Deb), Richardton; Fritz (Karen), Cheyenne, Wyo.; Vickie (Wade) Entze, Golden Valley; Margie (Aron) May, Glenwood, Minn; Greg (Dori), Richardton; Tina Akins, Cheyenne, Wyo.; and Scott (Lisa Scott), Richardton; 43 grandchildren; and 78 great-grandchildren, with several more on the way. They also leave behind Betty's siblings – Robert (Gloria) Schmalenberger, Hebron; Jacob (Alice) Schmalenberger, Hebron; Allan (Georgianne) Schmalenberger, Dickinson; Joyce (Harold) Schatz, Hawaii; Gladys (Florian) Woroniecki, Hebron; and Verda Huepel of Mandan – and Phillip's siblings – Barbara (Eleanor) Hoff, Richardton; Aurillia Reed, Texas; and Setona Gartner, Germany.